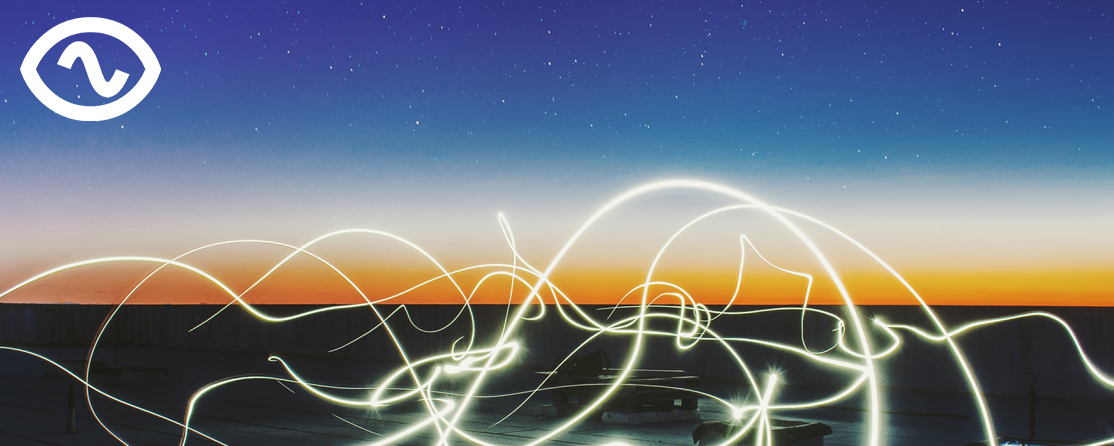 The Limejump Quarterly Report Q2 2019 – Powering the National Grid without Coal, Carbon Price Records and Volatile Revenue Opportunities
Welcome to our latest quarterly market report. Within this report, we focus on a number of key market developments and influences:  we explore commodity pricing fluctuations, market dynamics, what we see coming up in Q3 of 2019 and of course a number of new developments from the world of Limejump as we continue to develop the Future of Energy.
Q2-19 Commodities in Transition
Carbon price record
Carbon markets remained volatile within Q2 with a general upward trend guiding prices. Carbon opened the quarter at EU21.91/tonne and closed at EU26.28/tonne. This commodity reached a ten year high on April 23, trading at EU27.53/tonne; this high has already been surpassed since the end of the quarter. Market consensus is aligned that carbon units will continue to trade up throughout the rest of the year due to a decreasing Market Supply Reserve. This has decreased by 24% in the past twelve months, meaning that there are fewer carbon units available for purchase in the European Emissions Trading Scheme (ETS).
One key factor to watch with the carbon markets is the ongoing Brexit negotiations. If the UK leaves the EU on October 31 without a trade deal, a UK wide carbon tax of £16 will automatically apply instead of the European ETS. If this scenario occurs, expect to see carbon markets trade down temporarily as UK emitters transfer their already procured credits to the continent. Market analysis has suggested that this will be between 60-90 million tonnes.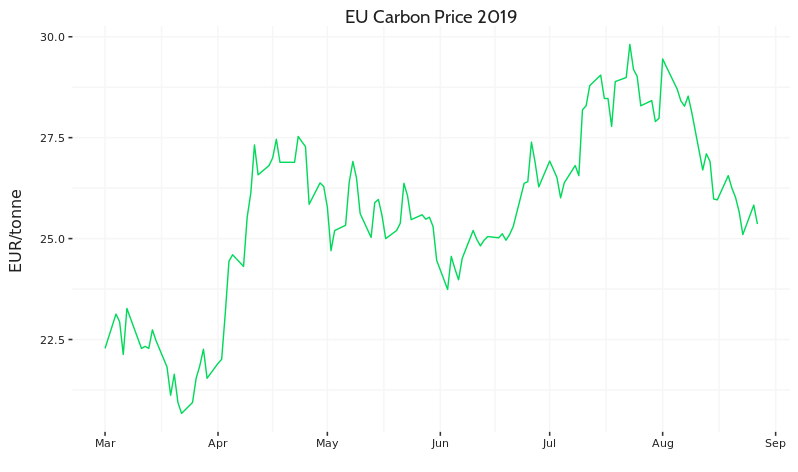 EUA carbon trading Q2-2019 – Image Credit: Bloomberg
Coal free hours record & more coal station closures
Between mid-May and early-June 2019, the UK went 18 consecutive days without burning coal for electricity generation. This is the longest coal-free period since the Industrial Revolution.
EDF Energy's Cottam coal station is scheduled to close on September 30, 2019. Recently, we have observed this station frequently running despite low dark spreads. We strongly suspect that they are running at a loss to burn through any remaining coal stockpiles on site.
Recently RWE's Aberthaw coal station, in south Wales, announced that it was to close on March 31, 2020.
With uncertainty surrounding the capacity market, negative dark spreads (meaning that coal is unprofitable using current power and coal prices) and an increasing number of more efficient and renewable gas stations coming online, the market for coal will continue to decline.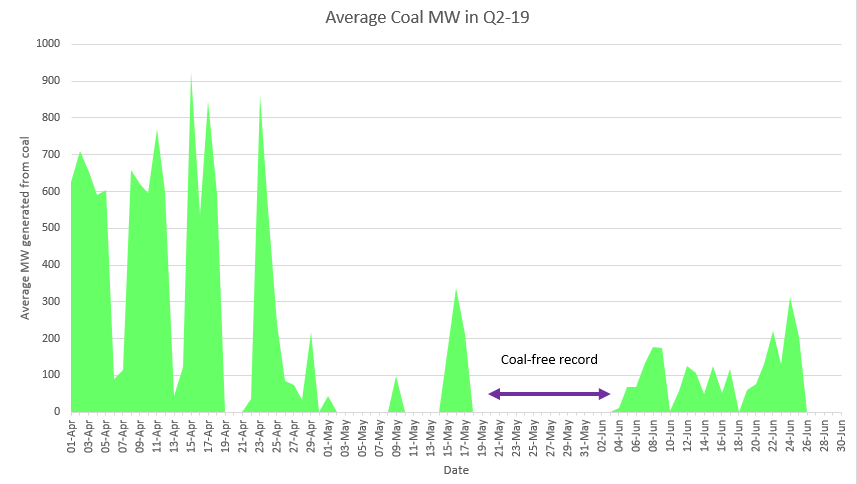 Increasing Wind Generation connected to National Grid
The construction of the Hornsea One offshore wind farm continues with over half of the site now generating. Once complete, this site will generate over 1.2GW at full capacity.
A further increase in intermittent renewable generation will result in higher volatility in power markets as Day Ahead and Intraday prices deviate between high and low renewable generation; whereas System Prices will deviate dependent on renewable generation out-turn compared with forecasted levels. In Q2-19, we observed days with sustained negative pricing during high wind utilisation, particularly if this was over a weekend when national demand is lower. Examples of this volatility can be seen with the highest System Price being set at £375 on June 24, while the lowest System Price was -£71.26 on May 26.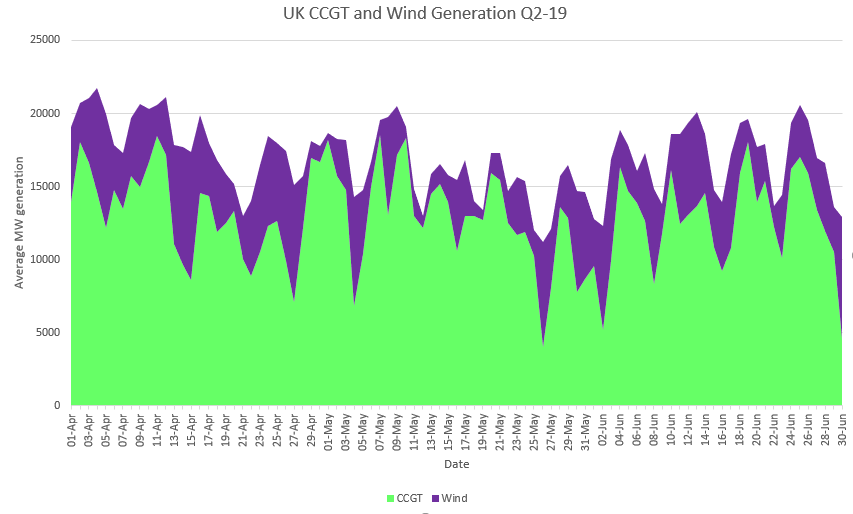 Gas Oversupply
 European gas storage levels continue to add bearish sentiment to power markets. April and May saw record-high LNG imports into Europe, with April volumes up 230% compared to those in 2018. This was primarily driven by more attractive gas pricing in Europe for importers compared to other worldwide markets. For UK power, this has resulted in sustained and suppressed gas prices, coupled with an accelerated rate of European gas storage injections. This has impacted power prices with prices across all markets (prompt and forward) falling throughout the quarter, due to decreasing Short Run Marginal Costs (SRMC) for gas-fired generation.
One of a Kind Events – N2EX/EPEX de-coupling event
The UK Power Day Ahead Hourly auction is run by two separate providers EPEX and N2EX. Different market participants, including the inter-connectors, use different auction platforms.
The Day Ahead auctions are run in tandem across these two platforms so that market coupling between European power markets can occur and resultant interconnector flows can be scheduled.
On June 7, the EPEX auction platform experienced numerous technical difficulties meaning that the auction had to be run at a delayed time and in isolation; however, N2EX continued running as per usual. This resulted in severe price decoupling between both auctions and different markets within Europe, with prices in Belgium spiking to over EU2000/MWh. This is a very rare event. , It will be important to watch how both of these platforms react to ongoing uncertainty with Brexit; currently, there is a possibility that the auctions will be run in isolation without market coupling, which could result in volatile pricing and is incongruent between EPEX and N2EX.
How do these elements affect Asset Revenues?
 In Q2-19, we witnessed a high number of static frequency events as a result of interconnector and generation plant trips. These events demonstrate the value of flexible assets and ancillary service markets and coincided with National Grid trialling new frequency response products.
National Grid is seeking to manage ancillary service procurement in a more dynamic manner and has introduced a weekly low-frequency static auction, where full response needs to be delivered within 1 second. This fast response means that this product is best suited for batteries, as other asset types struggle to respond at this pace.
In mid-June, this auction went live for the first time with Limejump participating in it. National Grid's maximum purchase price for overnight frequency (EFA1+2) has been much higher than within-day, most recently clearing at over £5/MW overnight.
This is proving to be a positive revenue stream for battery owners as they seek to generate revenue from their assets in what can often be benign markets overnight. In Q3-19 National Grid is hoping to extend this trial to Dynamic FFR and manage the bidding process through EPEX.

Weekly Auction price limits and cleared prices in June 2019
What's Coming in Q3-19?
There is little doubt that the UK power market will remain dynamic and interesting in Q3-19:  Ofgem reports, the recent closure of several residential suppliers, commodity pricing influence, seasonal weather changes not to mention geopolitical leadership turmoil and Brexit outcomes will provide an exciting and volatile/varied Q3-2019.
The following are some key influences that we will be monitoring over the coming months.
Weather Patterns
September onwards can be a typically volatile period for power markets. This is largely weather driven as temperatures transition from summer levels towards darker and colder days. In particular, this can result in volatile EFA 6 periods (19:00-23:00) as more lighting and heating demand comes online.
Gas Storage
Due to high LNG imports and low gas demand during windy summer months, European gas storage is currently at the same level as October's peak storage levels. If the beginning of the winter period is warmer than average, we can expect these high gas storage inventories to continue into winter. The contrary is also true if demand comes in higher than anticipated or if there is lower than average renewable generation.
GBP, Brexit and Foreign Exchange Markets
As we head towards Brexit, expect to see volatility in power markets. In forward markets, this will be driven by foreign exchange rates and carbon markets. A weak pound means that power prices increase due to the higher cost of procuring other commodities (gas, coal, carbon, etc.) that are not priced in GBP. While in prompt markets, this will be driven by foreign exchange and the possible de-coupling of the UK and European markets.
Weekly Static and Dynamic FFR Auctions
As mentioned earlier in this report, National Grid intends to extend its trial of weekly frequency auctions to dynamic frequency products in Q3-19. We anticipate that this will offer our customers further optionality to optimise assets across different markets and more actively react to changes in market conditions.
Commercial Limejump Power Purchase Agreements
We have seen a dramatic increase in the benefits of utilising Track 'n' Trade Power Purchase Agreements in the past year. We have seen that many customers who requested fixed contracts initially have spent at least three months tracking the market in advance of their new contract start date. This smart new approach allows generators to take advantage of market volatility and makes sure to capture any market spikes whenever they occur. With many contractual renewals occurring in the next few months, it is a great time to chat with your Limejump account manager about the strategy you can take to optimise your asset.
Disclaimer
This document has been prepared by Limejump and is provided to its recipient on no-reliance basis, free of charge and voluntarily. The data and analysis in this document is owned by Limejump, unless where stated otherwise. The recipient shall not distribute the document to people outside of its organisation. Whilst Limejump has taken reasonable care in preparing this document, no representation or warranty, either expressed or implied, is made as to the accuracy or completeness of the information that it contains. This document does not constitute professional advice, delivery of service or performance of a contractual obligation by Limejump. Parties using information in here should make their own enquiries and obtain independent verification as to its accuracy and suitability for the purpose for which they intend to use it. Neither Limejump nor any other companies in the Limejump group, shall be liable for any error or misstatement or opinion on which the recipient of this document relies and does not accept any responsibility for any costs, damages or losses which may be incurred as a result of the reliance, use or unlawful distribution of this document by its recipient.