A new carbon intensity record and record carbon price hit the headlines
Market Pulse
On Monday, the UK set an exciting new record for the lowest ever carbon intensity on the National Grid at 39gCO2/kWh. This was due to very high winds of over 14GW combined with high solar generation, accounting for 41% and 23% of the generation mix around lunchtime respectively. Demand is always lower on a Bank Holiday which meant there was less pressure on the system. This is a great sign of the progress the UK is making in their goal of reaching net zero by 2050.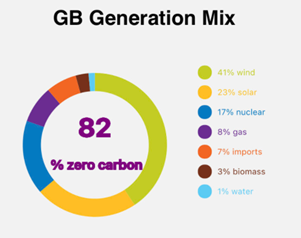 As encouraging as this is, it is important to note that this was not the greenest day on record, (24th May 2020), because the average carbon intensity of the day was higher than the previous record due to solar generation ramping down in the evening resulting in gas-fired generation accounting for about a third of generation in the evening. This highlights the importance of gas and flexible generation assets in enabling our transition to a 100% renewable energy system. Renewable generation is still too intermittent to fully support UK power supply and the National Grid still needs the support of peaking generation such as batteries and gas peakers.
Volatile wind generation shaped this week's market
Following high winds for the first half of the week, generation rapidly ramped down on Wednesday, dropping from 10GW to just above 2GW by the end of the day. This resulted in high Day Ahead prices, as well as system prices spiking to around £200 between 5pm and 9pm when two gas assets tripped and there was insufficient wind generation to balance the system.


Wind ramped back up on Thursday but is rapidly ramping back down on Friday(today) which has caused Day Ahead volatility – making it much harder for National Grid to balance the system.
Carbon price keeps on climbing
Carbon prices steadily rose this week and on Wednesday 7th April, hitting a new record high of €43.81/tonne. There is no resistance to Carbon's to continued rise in price with analysts in the energy world agreeing that it will keep going up. It is expected to move past €80/tonne by 2030, which is remarkable considering it was lower than €8/tonne in 2018. Here at Limejump, we are really excited about this continued surge as it is helping to accelerate decarbonisation here in the UK and is a continued move in the right direction for Limejump to achieve our goal of reaching 100% renewable energy in real-time.
Outlook for next week
Temperatures will be returning closer to seasonal norms, although still slightly on the cold side over the weekend and early next week. Wind volatility is expected to continue next week, ramping up and down significantly almost on a daily basis with average generation slightly above what is expected in April. There are slight increases in Biomass, CCGT and Nuclear but at the moment we see next week looking marginally short which could result in slightly higher prices but this is all dependent on how wind outturns.