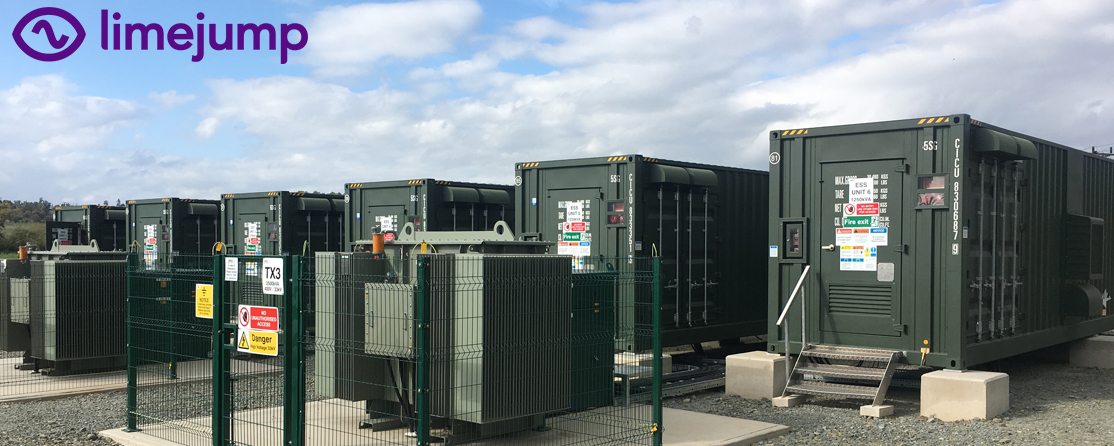 The week in flexibility: Negative Nine: low demand and high wind combine to create a perfect renewable generation storm
Each week, we take a look at the week in flexibility trading that has just been, and a look at what's next. Enjoy our latest instalment. It's been a busy week in flexibility trading world. The sunny week gave way to an unprecedented renewable generation mix for market trading. First the coal-free record was broken again on Saturday (now over 10 days and counting).
Then on Sunday, we saw prices tumble to £0/MWh at 8:00 am, then stick in the negative for nine hours consequentially. Negative pricing was predominantly caused by high wind generation (up to 9GW) in combination with unusually low demand – this was up to 2GW below forecast.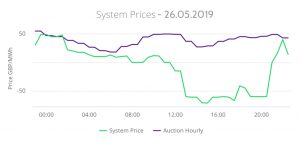 Limejump was able to instruct storage assets to charge during this situation, creating a scenario where batteries were earning revenue while importing electricity.
As a result, National Grid actioned a number of on-shore and off-shore wind farms to turn down their generation to match demand requirements at a negative price. System Price was seen at its lowest point on SP31, settling at £-71.26/MWh with exchange prices even lower as traders feared a further drop in price.
The sell stack was very active during this time, with the most notable action against Thanet Offshore Windfarm (T_THNTO-
1) asked to turn off at £-135/MWh. Drax Power Station was also instructed to turn off generation at £-60/MWh.
The new week has seen the trend continue. As we came back into the office after the bank holiday weekend we witnessed a follow up to these drastic conditions as the System Price dropped to £-50/MWh between 7:00 – 7:30 am during a period of unusually high-power supply. The price setter for the period was Immingham Power Station (T_HUMR-1) which was instructed to turn off generation.
The question traders have been asking themselves this year  ("Are negative system prices an anomaly or are they here to stay?") has now been answered without a doubt and it is down to the savvy trading strategist that can utilise the concoction of renewable ingredients to deliver asset revenue.
What about the rest of the week? Last Monday delivered an average System Price of £48.5/MWh while NIV averaged 36MWh short. The highest System Price of the day was in period 36 and 39 at £84.5/MWh while the lowest was in period 6 and 45 at £29.6/MWh. For Limejump clients, this resulted in ~£540.
With the UK still largely basking in sunshine, Tuesday saw prices turn out mostly below the Day-Ahead auction with the early coffee rush at 7.30am delivering a maximum price of £78 (set by the Pembroke CCGT unit T-PEMB-21) before a largely "low" day. Interestingly the NIV reached -580 at 16.00 pm with the system mostly long coupled with high solar output (solar provided 22% of total generation mix at its peak).
Tuesday also saw a technical outage in the Elexon BMRS data service around 17:00 pm with maintenance swiftly planned in for the Wednesday … leading to BM instructions switching from automated digital systems to good old-fashioned telephone instruction.
There were no hic-ups with the phone lines though and System Price remained relatively benign on Wednesday with prices reaching a high of £64/MWh during SP17. Price setters included Dinorwig Power Station (T_DINO-2) being actioned at £95.5/MWh and Spalding Power Station (T_SPLN-1) being actioned at £89.95/MWh leading to ~£1140 for Limejump customers. System Price reached its lowest point during SP11, settling at just £20/MWh and we also saw a number of large actions on the Sell Stack including Sea Bank Power Station (T_SEAB-1) and Dinorwig Power Station (T_DINO-6).
As we approached the bank holiday weekend the warm spell continued, and Thursday saw a System Price that was muted and low. Prices reached their lowest point on Thursday on SP32, settling at £14.25/MWh and limited balancing action took place during this time, with the majority of action on the sell stack to turn down a number of already running CCGT's – most notably Staythorpe Power Station (T_STAY-3), Grain Power Station (T_GRAI-6) & South Humber Bank Power Station (T_SHBA-2). From a Limejump customer perspective, this delivered ~£1300.
Solar generation contributed an impressive 7.94GW, playing a big part in these prices, giving further confidence to a coal-free future in a month where coal-free generation and solar output records have tumbled.
Flex in numbers:
Total number of instructions for Limejump: 71
Top System Price of the week: £79
Lowest System Price: £ – 71.26
Disclaimer
This document has been prepared by Limejump and is provided to its recipient on no-reliance basis, free of charge and voluntarily. The data and analysis in this document is owned by Limejump, unless where stated otherwise. The recipient shall not distribute the document to people outside of its organisation. Whilst Limejump has taken reasonable care in preparing this document, no representation or warranty, either expressed or implied, is made as to the accuracy or completeness of the information that it contains. This document does not constitute professional advice, delivery of service or performance of a contractual obligation by Limejump. Parties using information in here should make their own enquiries and obtain independent verification as to its accuracy and suitability for the purpose for which they intend to use it. Neither Limejump nor any other companies in the Limejump group, shall be liable for any error or misstatement or opinion on which the recipient of this document relies and does not accept any responsibility for any costs, damages or losses which may be incurred as a result of the reliance, use or unlawful distribution of this document by its recipient.