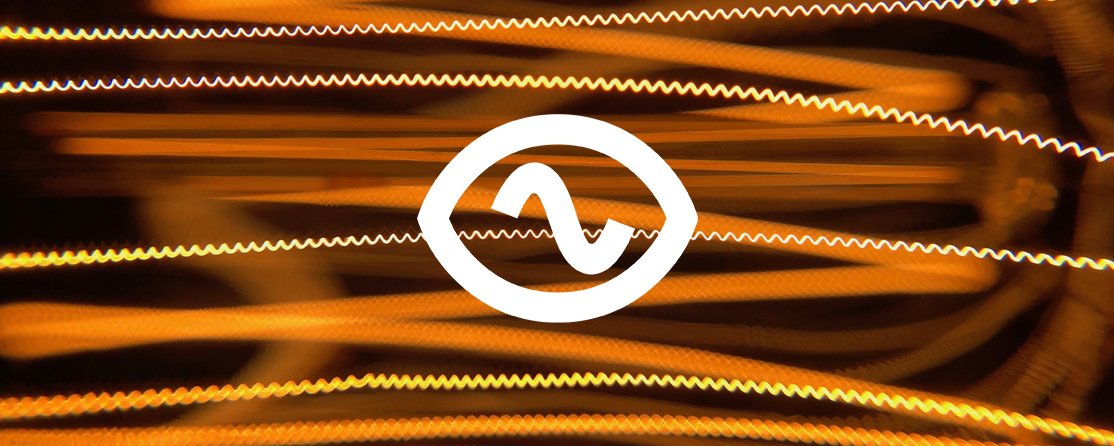 The Limejump Quarterly Report Q4 2019 – Significant Code Review, changing fundamentals and the General Election
Welcome to our latest quarterly market report. Within this report, we focus on several key market developments and influences: we look at some of the key events at the end of 2019, as well as ancillary markets, fundamentals and we take a peek at what we have seen so far this year.
Q4-19 highlighted the dynamic nature of the energy market.
Key Events in Q4-19
In December 2019, OFGEM released its final decision on the implementation of the Significant Code Review, first launched in 2016 to assess network charging arrangements. OFGEM was concerned that the current arrangements were preventing a level playing field between embedded generation and transmission connected generation. Ofgem called this the Targeted Charging Review (TCR).
The TCR primarily focused on the 'residual charges' which recover the fixed costs of providing existing grid infrastructure, OFGEM will implement the following reforms:
| | | | |
| --- | --- | --- | --- |
| Charge | Current Status | Post TCR Status | Implementation Date |
| TNUoS Demand Residual | Transmission Demand Residual charges (Triads) are levied on triad volumes and can be avoided by behind the meter generation or Demand Side Response | Change of charge allocation to a fixed or agreed capacity, removing ability to avoid charges by generating or reducing demand during times of peak national electricity demand. Residual accounts for about 80% of TNUoS charges | April 2022 for distribution   connected generation |
| Transmission Generator Residual | Large transmission connected generators receive a credit from the Transmission Generation Residual charge | Setting of Transmission Generator Residual payment to zero, removing credit payments to transmission connected generators. There is currently a EU cap of Euro 2.5. | April 2021 |
| Embedded BSUoS payment | Embedded generators can access pass-through BSUoS cost savings due to allocation on net demand | Allocation of BSUoS charges on gross demand meaning that there is no longer a benefit paid to suppliers and therefore no BSUoS payment pass to embedded generators | April 2021 |
| DUoS Residual | For High Voltage /Low Voltage users, DUoS Residual is applied as flat p/kWh charge added to demand only | Change of charge allocation to a fixed or agreed capacity. Residual charges represent about 20% of total DUoS charges. | April 2022 |
Industry largely sees the changes as negative for any behind the meter/distribution connected generation. The key changes for our customers are the partial removal of the Triad benefits and the removal of the embedded generation BSUoS payment.
Monthly procurement of National Grid's STOR and Fast Reserve products suspended off the back of Europe's Clean Energy Package
National Grid has suspended the procurement of STOR and Fast Reserve until further notice. This is due to uncertainty around the potential implications of the recast Electricity Regulation within the Clean Energy Package.
The Clean Energy Package is an update to the European energy policy framework with the intention of facilitating the energy transition and providing for a modern European energy market. The legislation predominately covers market design, the integration of renewables, rules on energy efficiency and the overarching framework.
National Grid will honour the existing contracts that parties have, with no future procurement of either of these services on a monthly basis until further notice.
The impact this has depends on the length of time the suspension remains in place. It is possible that we could start to see more volatility in the Balancing Mechanism as a result of National Grid no longer being able to rely on these products.
 OFGEM and Energy Emergencies Executive Committee E3C publish a number of reports on the August 2019 blackout
We commented on the blackout in our previous quarterly report. The latest reports focused on how industry can learn additional lessons and focused on three main areas:
| | | |
| --- | --- | --- |
| System Security | Distributed Generation | Demand Disconnection Arrangements |
| Review Energy System Operator standards – the framework that National Grid operates to. | Review timetable for planned changes to the sensitivity of distributed generators' protection settings to the impacts of network disturbances | Reviewing the effectiveness of demand disconnection arrangements |
| Improve transparency of estimation of reserve power required (in particular inertia, frequency response and reserves) | Reviewing the regulatory and compliance framework for distributed generation and options to strengthen it | Considering requirements on network and system operators regarding customer treatment during outages |
| Improve compliance testing for generators to ensure that systems meet National Grids generation requirements | To improve the visibility of distributed generation for National Grid. In particular, the physical location of embedded generation and which substations they connect to | |
Limejump strongly supports the increased procurement from National Grid of the reserve products, in particular frequency, as the blackout saw the crucial role it plays in managing small imbalances on the system.
Ancillary Market Updates
High FFR prices with parties bidding on over triad periods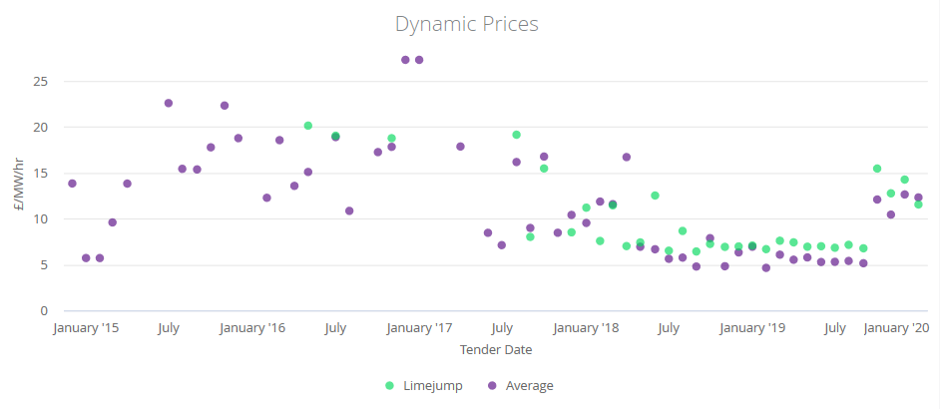 Dynamic FFR prices have more than doubled in some cases, as market participants bid at high prices over triad periods (Winter weekday EFA5) to make up for the loss in revenue. We expect to see sustained high prices until the end of February, which will coincide with the end of triad season.
National Grids weekly FFR auctions a success with Limejump participating since day one!
Phase 2 of National Grid's Frequency Response Auction Trial launched at the end of November 2019 for procurement of up to 100MW of both static and dynamic frequency response services. The auction trial is a two-year project to test closer-to-real-time procurement of ancillary services in a weekly, pay-as-clear auction.
The cleared prices by day are below.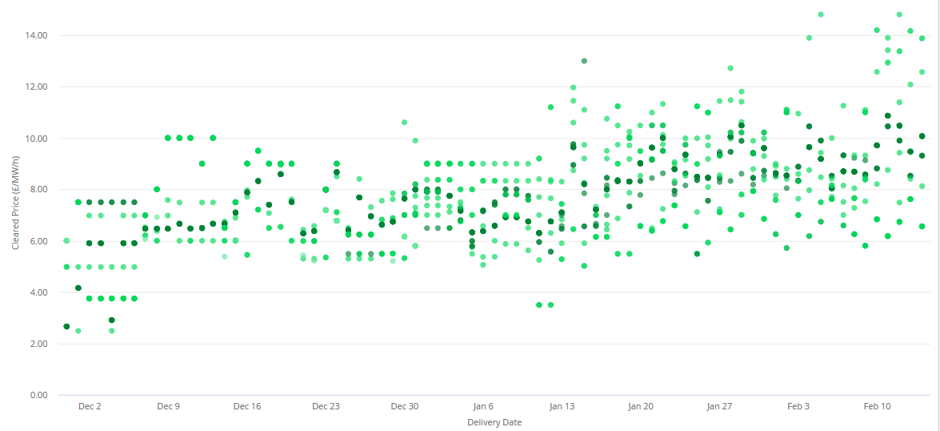 EFA block 5 tend to average > £10/MWh. This has been very lucrative for parties over the winter if we do not forecast a triad for the week ahead.
Response and Reserve roadmap published
National Grid is developing a new suite of three dynamic frequency response services, which will eventually replace their existing response services, these are:
Dynamic Containment (DC)
Dynamic Moderation (DM); and
Dynamic Regulation (DR)
National Grid is prioritising the development of Dynamic Containment frequency response service, which is designed to be fast-acting and to operate post-fault. National Grid will begin to procure this service before summer 2020. Limejump supports National Grid and their endeavours to develop products to meet the real time balancing needs of the UK electricity market. We are excited about these developments and watching closely in preparation for these new products going live.
National Grid's full roadmap is below: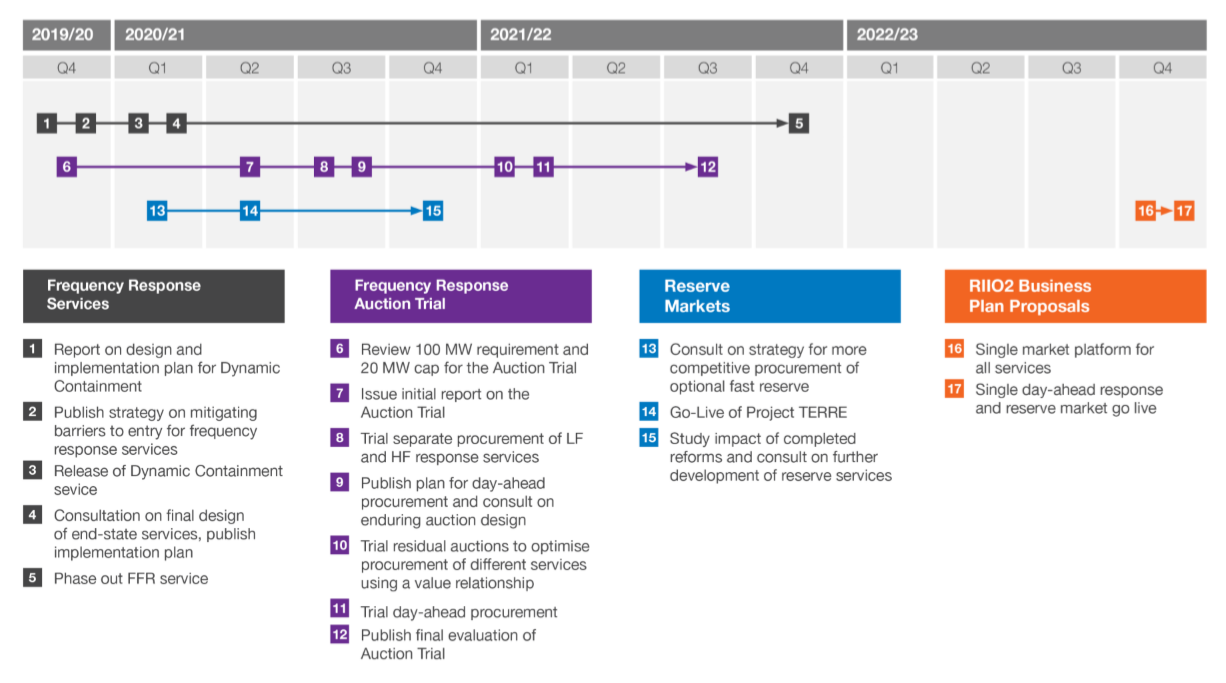 Market Fundamentals
Record winter Storage levels due to low temperatures and significant LNG imports into Europe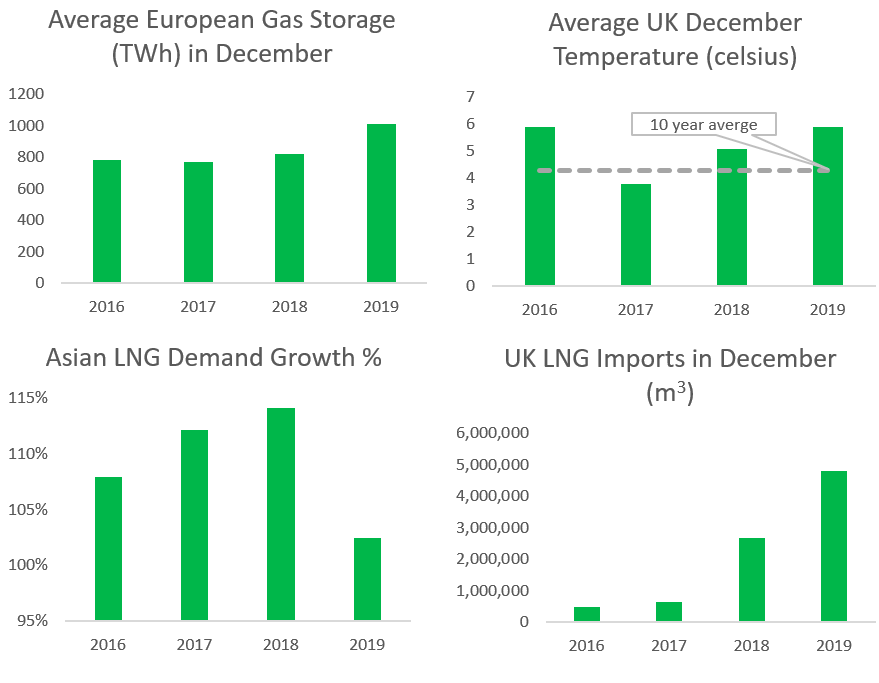 Gas storage levels in Europe are sitting circa 25% higher than this time last year. This has been driven by mild temperatures, which reduce demand for gas, coupled with significant LNG imports. Higher volumes of LNG have flowed to Europe (and the UK), due to a structural oversupply – there is more capacity but demand (particularly Asian) has been lower than expected. Asia saw 8-12% LNG demand growth YoY from 2016-2018, but that collapsed to circa 2% growth this year.

These factors have led to declines in gas prices as illustrated in the chart below. Power markets move in line with gas markets; the profitability of gas fired generation at various efficiency levels is called the spark spread. With lower gas prices the spark spread remains positive as power prices fall. As gas is predominantly the marginal fuel in UK power generation, we have seen power prices fall in line with gas prices such that the spark spreads remain positive for gas-fired generators.
Trilateral gas transit agreement between Russia, Ukraine and the EU signed alleviating supply concerns add downward pressure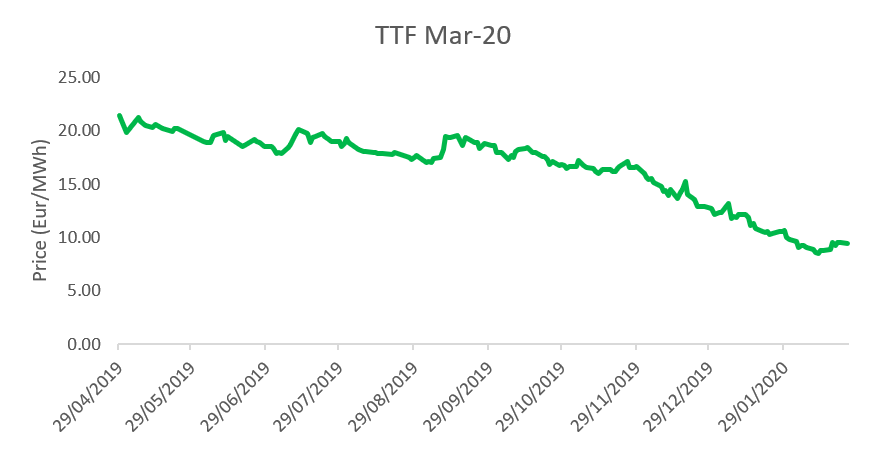 Source Trayport
The agreement to ship gas from Russia into Europe, via Ukraine was due to expire on 31st Dec-19; this agreement for 110bcm/year had been in place for ten years. As negotiations for a new agreement progressed, we saw volatile pricing in European gas markets. For example, on 18th Dec Ukraine stated publicly that there was a low chance of an agreement. The spike in the Feb 20 Contract can be seen in the chart above.
For context, Ukraine was pushing for a longer-term deal, to ensure long term revenue, whereas Russia wanted a shorter-term deal with Turkstream having started flowing gas from 1 Jan 2020 and Nordstream 2 coming online in the next 12 – 18 months.
The deal, which Russia and Ukraine signed on 20 December was for 5 years and for delivery of 40 – 60 bcm of natural gas. Subsequently, with the supply risk removed from European markets, we have seen a selloff in European gas markets.
National Grid's balancing costs and volumes in the BM increase – National Grid are utilising flexibility more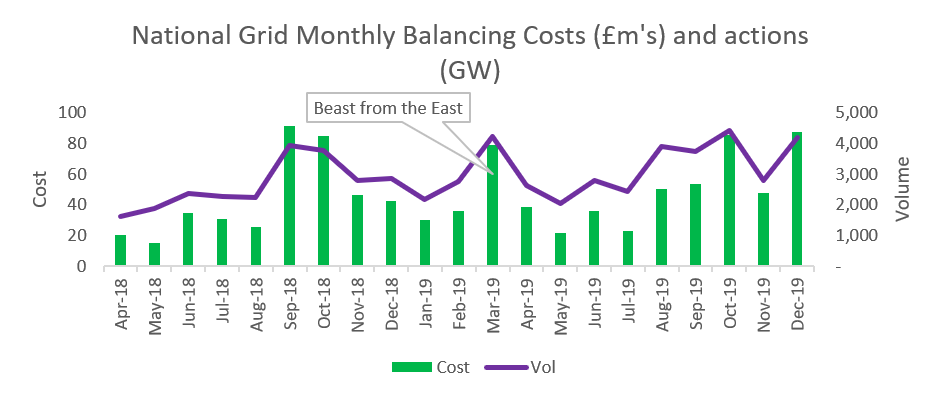 National Grid took just over 9.4 TWh of balancing actions in Q4-18, compared with 11.4 TWh in Q4-19. This demonstrates National Grid is needing ever greater flexibility; this bodes well for flexible assets including batteries and peaking generation.
UK political landscape –the General Election sees Sterling strengthen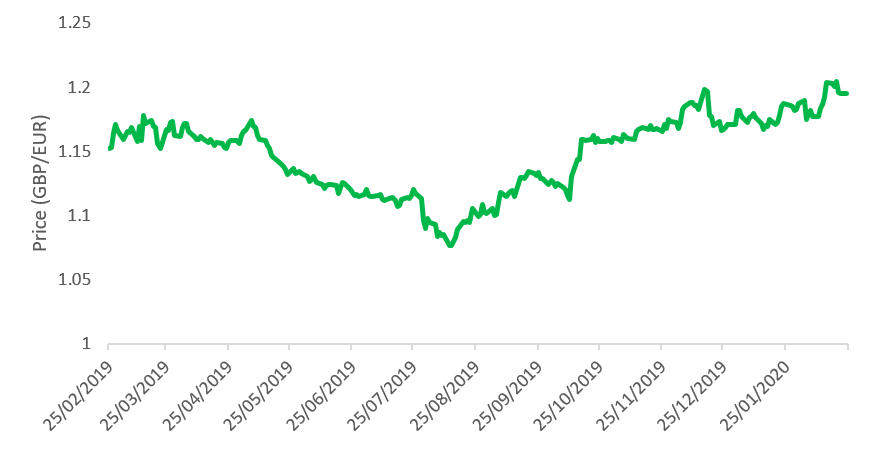 The GBP strengthened relative to the Euro, in the run up to and following the General Election in December. Markets prefer certainty and a majority Conservative government removed some of the Brexit uncertainty that had been impacting the GBP across 2019. The strengthening of the currency makes continental gas/power prices relatively cheaper and has a depressing effect on UK power/gas prices.
If you have any questions or comments about the information mentioned in this report, please get in touch with us.
Disclaimer
This document has been prepared by Limejump and is provided to its recipient on no-reliance basis, free of charge and voluntarily. The data and analysis in this document is owned by Limejump, unless where stated otherwise. The recipient shall not distribute the document to people outside of its organisation. Whilst Limejump has taken reasonable care in preparing this document, no representation or warranty, either expressed or implied, is made as to the accuracy or completeness of the information that it contains. This document does not constitute professional advice, delivery of service or performance of a contractual obligation by Limejump. Parties using information in here should make their own enquiries and obtain independent verification as to its accuracy and suitability for the purpose for which they intend to use it. Neither Limejump nor any other companies in the Limejump group, shall be liable for any error or misstatement or opinion on which the recipient of this document relies and does not accept any responsibility for any costs, damages or losses which may be incurred as a result of the reliance, use or unlawful distribution of this document by its recipient.