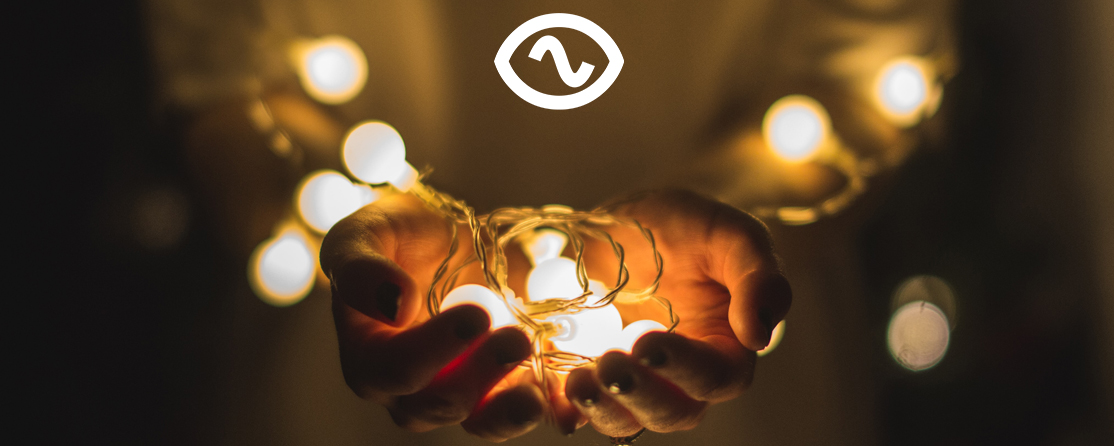 The Limejump Quarterly Report Q3 2019 – Post Blackout ruminations, combined with continued political uncertainty, delivers further market volatility and business opportunity
Welcome to our latest quarterly market report. In this report, we focus on several key market developments and influences, exploring key events, ancillary markets, fundamentals and a forward look at what we see coming up in the final quarter of this year.
Key Events in Q3
Major blackout event, leading to energy industry speculation and much soul searching
On August 9 2019, a lightning strike, at 16:52, caused Britain's biggest blackout event for a decade. The strike hit a transmission circuit that caused the failure of Hornsea (offshore windfarm) and Little Barford (gas power station). The total generation lost from these transmission connected generators was 1,378MW, causing widespread impact across the country and prompting serious questions about the operation of the UK energy system.
National Grid would not necessarily find this volume coming off the system problematic. However, the RoCoF (Rate of Change of Frequency) was high, due to low Inertia on the system. Meaning, if assets come off the system, the frequency will change quickly as Inertia acts as a dampener for frequency change.
This rapid and unexpected loss of generation, coupled with low Inertia, meant frequency fell very quickly and went outside the normal range of 50.5Hz – 49.5Hz. National Grid used all the frequency response it had at its disposal (472 MW of battery storage). The size of the generation loss meant frequency fell to 48.8Hz, leading to disconnections to protect the system and restore the frequency back to safe levels. The full frequency timeline can be seen below: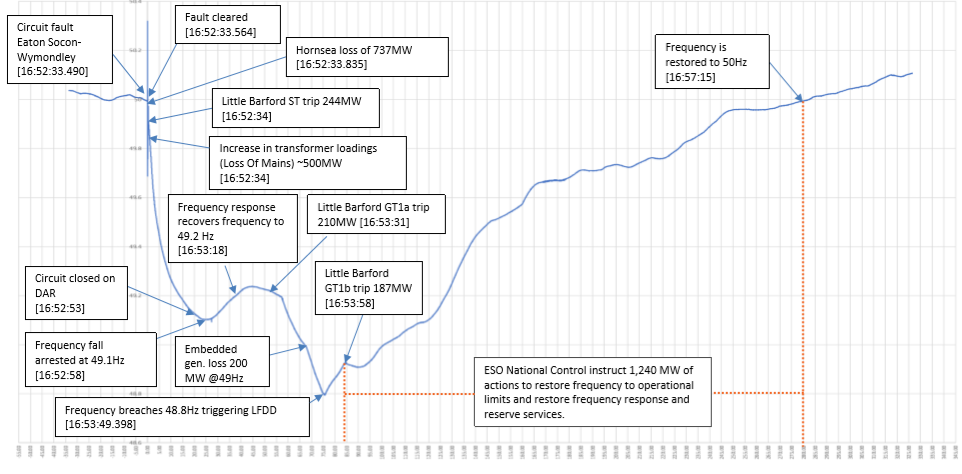 Image Source: Ofgem
This event highlights the importance frequency response plays in balancing the system and hence the necessary services our customers provide to National Grid and to literally keep the lights on. Further information on Limejump's view of this event from CEO Erik Nygard, Rob Sherwood's call for the development of a commercial market for Inertia (and the subsequent announcement that National Grid indeed will create this market) and a look at the increased need of fast-acting assets via our website blogs.
Beyond Limejump, much has been written, speculated, shouted and said about this relatively unique set of circumstances and the consequential blackout event; reports from National Grid, Ofgem and BEIS can be found online.
To reiterate Limejump's point of view on the outcome of these blackout developments and any new plans to enhance the market, we feel that it would be irresponsible to even for a moment assume that this event in any way should halt the deployment of renewables.
The third round of CfD auctions clears showing a large drop in prices
In September, BEIS unveiled the results for the latest CFD auctions resulting in 6 GW of new offshore wind capacity. This auction cleared at a record low price of £39.65/MWh compared with the first round of the auctions clearing in 2014 at £114/MWh. There were six winning bids, and we expect these will be built before 2025.
Increased wind generation will add to National Grid's operational challenges to manage generation when there are low levels of wind. We provide National Grid with flexibility, on behalf of our customers, which given increased renewable generation volatility should only become more valuable in the future.
Summer demand continues to decline, whilst Balancing Mechanism actions rise
Summer generally sees lower electricity demand due to lower heating and lighting load as well as higher embedded solar output. Lower demand typically leads to renewables providing a greater percentage of overall generation as renewables have zero marginal cost hence National Grid will switch them off last in the stack.
Renewables tend to be concentrated geographically, for example, the UK has most of the solar output concentrated in the south-west of England, whereas the bulk of wind is in Scotland. This creates locational challenges for National Grid when balancing the system.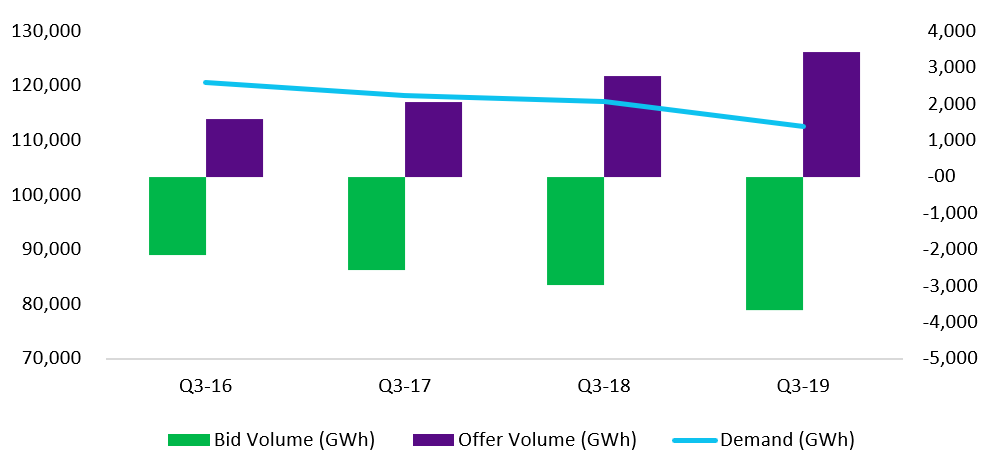 The graph above shows demand decreasing over time, due to increased embedded generation and more efficient appliances. In tandem, the volume of balancing actions (bids and offers) that National Grid has taken in summer months has increased over time. These developments demonstrate the growing importance of assets participation in the Balancing Mechanism.

Limejump continues to see significant value in the Balancing Mechanism and continues to support the development of this evolving mechanism while providing optimised asset access to customers who can respond to these critical instructions.
Above is a chart detailing the increase in balancing actions that Limejump has received over the last year with the number of BMU's and MW managed subsequently increasing alongside this.
Ancillary Market Update
Limejump success in the new LFR weekly static auctions
Limejump continued to enjoy success in the LFR weekly static auctions, demonstrating a high level of expertise that we have in this market. To date, Limejump has secured 28% of the volume, providing an excellent revenue stream for our customer's assets and a valuable service to National Grid.
Monthly Static FFR auctions see a price resurgence
Monthly static prices have rebounded in the last six months due to longer-dated contracts rolling off National Grid's books. Previously, National Grid awarded contracts for up to two years at a time but they are now looking to only procure at month-ahead for the foreseeable future. This should add upward support (and volatility) to prices.

Limejump has consistently procured volume in these auctions above the average price for our customers, demonstrating the value of this service.
STOR sees volume and value leaving the market
STOR prices and volumes have declined since the highs of 2018 summer, with most instructions now less than 2-3 hours. National Grid has indicated they expect this to be the new norm.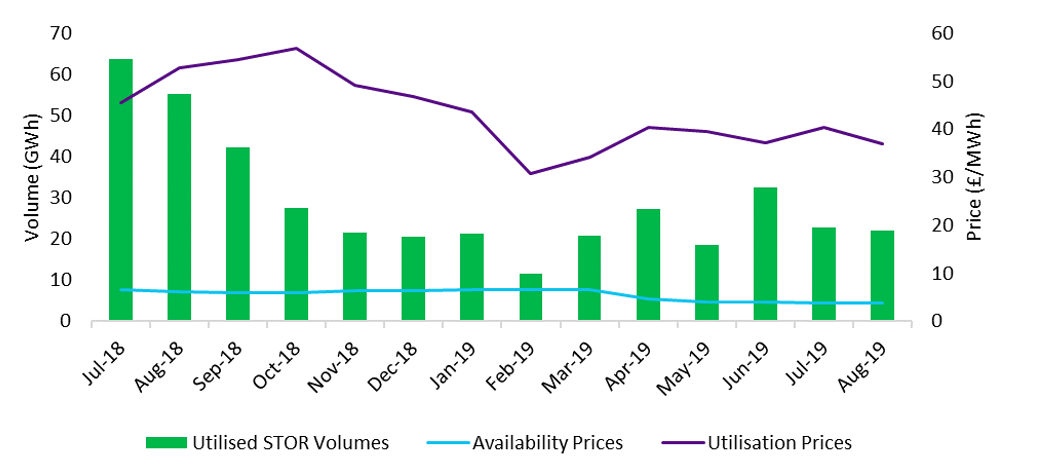 The chart above shows that National Grid is not instructing as much volume through STOR as they have previously.
As a result, many STOR providers are opting for Flex/Premium STOR bids (as opposed to committed) meaning there are less onerous availability requirements. Hence participants can opt for alternative revenue streams where more attractive ones are available (Triads, GDUoS, BM). The European Balancing Guidelines (EGBL) is looking to remove the ability of National Grid to procure balancing services (STOR and Fast Reserve) at fixed utilisation prices ahead of time. Consequentially, National Grid is applying for an exemption to this. If the EGBL were able to push through this change, these markets might become significantly less appealing to participants, and we could see more value in the Balancing Mechanism.
Market fundamentals
Carbon price hits 11 year high
EU carbon prices (EU ETS) hit a high of €29.78/tonne of CO2  on July 23. The EU ETS is the EU's policy to cap large carbon emitters. Those exceeding their limit must purchase additional allowances. Equally, those that can emit less than their limit can sell their excess. Since Q1 2019, the EU has reduced excess emissions using the market stability reserve, curbing allowances by circa 900 million or 24%. This has driven up prices as can be seen below: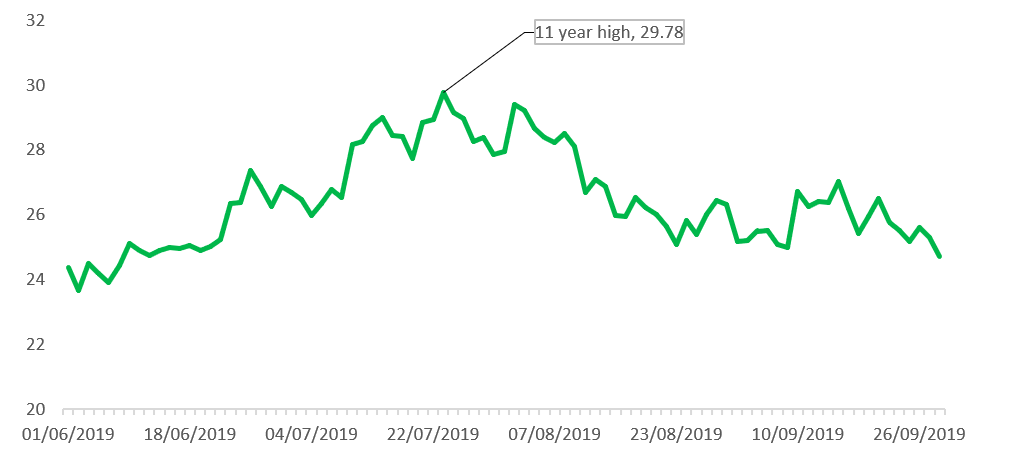 The Brexit Conundrum staggers in Q3 2019
Britain is the second-biggest economy in the EU and as such is a major player in the EU ETS carbon market. Notably, Britain has been faster in implementing green policies than a lot of other member states, partly due to the domestic carbon floor price raising the cost of emissions. This means Britain has a surplus of carbon credits and supplies the EU with circa 30m tonnes of allowances a year.
In the event of a no-deal Brexit, the UK would leave the EU ETS, and we would see large players unwinding their trades which would push the price down in Q4 / Q1 2020. Market analysis suggests that this will be between 60-90 million tonnes. Over the longer term, the lack of Britain's surplus allowances could see a tighter market and push EU ETS prices higher. This situation will evolve inlight of the Brexit delay and the current uncertainty over political leadership and policy direction in the UK.
The death march of coal: Cottam coal-fired power station closes
EDF closed Cottam power station in September, after running for more than 50 years. EDF originally scheduled the plant for closure in 2025 but the suspension of the Capacity Market and fall in coal prices, we expect, put significant pressure on margins. There now remain just six coal power stations in the UK, delivering 9.4 GW of capacity to National Grid. The Government has set a deadline for closure of all coal plants by 2025.
European gas storage levels at a record high following the extreme cold seen in Feb/Mar-18
European gas storage levels remain at record highs following a relatively mild winter last year and high LNG imports from Q1-19 onwards. This over-supply suppressed gas prices in Q3. Since a lower gas price means a gas plant can make the same profit with a lower power price, the power price often drops as gas generators follow this strategy (the spark spread remains the same). In the UK, approximately 35% of power generation is gas, meaning any changes in gas price have a significant impact on power prices.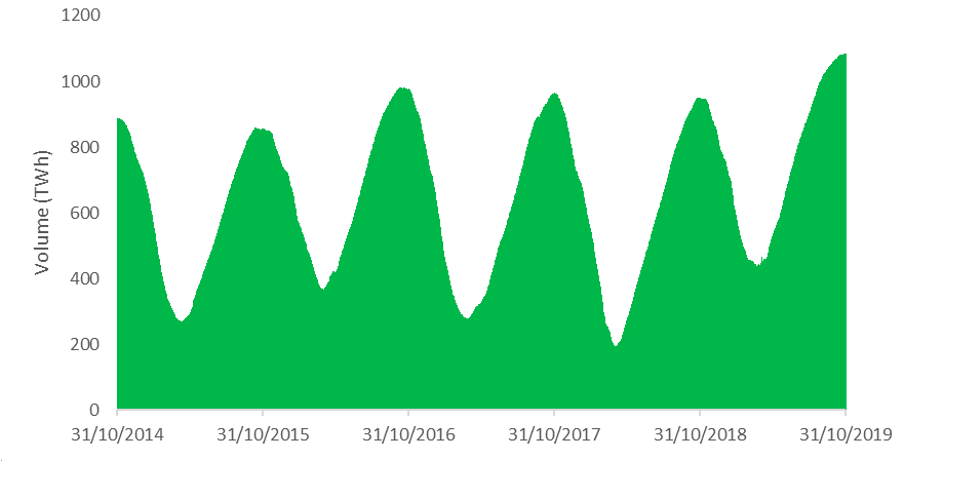 What's Next in Q4-19
Review of the August blackout
National Grid has committed to reviewing its backup power arrangements via the Security and Quality of Supply Standards. We will be following this closely to see if there are any key changes to the procurement of reserves, in particular, FFR. National Grid may decide to procure more frequency response to protect against losses of load. In addition, during the blackout, renewables accounted for 50% of generation. This is significant as they do not provide Inertia into the system (Inertia prevents changes to systems frequency in the event of loss of load).  This could lead to National Grid creating a separate Inertia market as we outlined earlier and on our blog.
National Grid to build frequency procurement closer to real-time with a trial dynamic weekly FFR auction
National Grid is set to trial weekly dynamic FFR auctions on November 28. This adds to the weekly static auctions that have been running successfully since June. Like the weekly static auction, 100 MW will be procured with a 20 MW cap on each unit. Limejump will be participating in the trial to offer our customers as much optionality as possible with increased exposure to available revenue streams.
Winter delivers the start of Triad season
As outlined in our recent blog article, the Triad season kicked off at the start of  November,  and runs until February 28. A notable change this year is the phased removal of spill payments. National Grid has halved the spill payment this year and will further reduce it to zero next year. This makes it less attractive to avoid Triads and we may see embedded generators look to generate revenue from other sources this year, in particular, FFR.
ElecLink 1 GW UK-France interconnector Q4-2019
The new 1 GW interconnector to France will increase total interconnection in the UK to 5 GW. See the table below for the current and planned interconnection.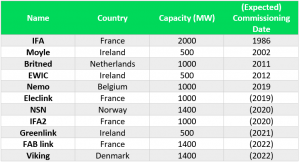 Interconnection is a significant factor in the UK as it increases market coupling, which allows for efficient flows and pricing of power between different markets. In practice, this means pricing will approach parity as traders take advantage of locational arbitrages. We are monitoring the XBid Market Project, which is creating a joint integrated intraday cross-border market. The project leads to markets coupling and therefore, will have an impact on pricing. The below countries in orange have already implemented the proposals, with plans for those in purple by Q4-19. The UK (and others in dark grey) have plans to implement the proposals, but it is unclear when this will be.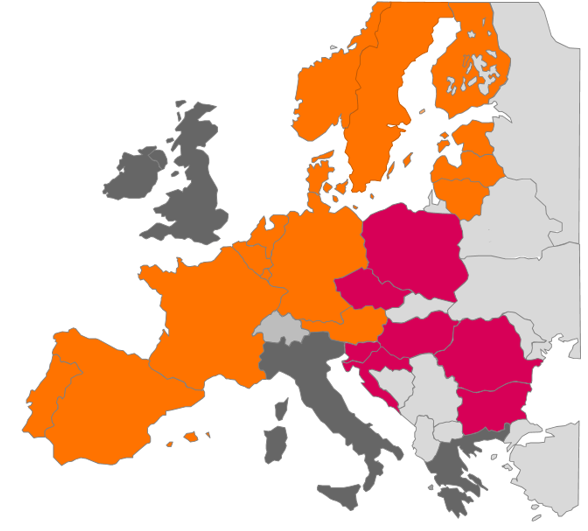 Image source: Epex
Winter margins remain higher than last year
The margin on the power system (the difference between generation and demand) is greater than last winter and well within the Reliability Standards set by the Government. The de-rated margin (the difference between available generation and peak underlying demand) is circa 7.8 GW (12.9%), compared with last year 7.1 GW (11.7%).
Hard Brexit… higher power prices?
EPEX and N2EX are two auction platforms that manage the UK Power Day Ahead Hourly auction. Different market participants, including the interconnectors, use different auction platforms.  EPEX and N2EX run the Day-Ahead auction in tandem across these two platforms so that market coupling between European power markets can occur and traders can schedule resultant interconnector flows.
Without a Brexit agreement, EPEX and N2EX will stop co-operating. This will lead to the markets decoupling and locational arbitrage becoming harder.
The auctions have decoupled once before – June 7, 2019. The EPEX auction platform experienced numerous technical difficulties meaning that EPEX ran the auction at a delayed time and in isolation. However, N2EX continued to run as per usual. This resulted in severe price decoupling between both auctions and different markets within Europe, with prices in Belgium spiking to over €2000/MWh.
Watch this space for Q4 and a look at what set to develop in 2020!
Disclaimer
This document has been prepared by Limejump and is provided to its recipient on no-reliance basis, free of charge and voluntarily. The data and analysis in this document is owned by Limejump, unless where stated otherwise. The recipient shall not distribute the document to people outside of its organisation. Whilst Limejump has taken reasonable care in preparing this document, no representation or warranty, either expressed or implied, is made as to the accuracy or completeness of the information that it contains. This document does not constitute professional advice, delivery of service or performance of a contractual obligation by Limejump. Parties using information in here should make their own enquiries and obtain independent verification as to its accuracy and suitability for the purpose for which they intend to use it. Neither Limejump nor any other companies in the Limejump group, shall be liable for any error or misstatement or opinion on which the recipient of this document relies and does not accept any responsibility for any costs, damages or losses which may be incurred as a result of the reliance, use or unlawful distribution of this document by its recipient.