Q3 Report: Fundamental Analysis
FUNDAMENTAL ANALYSIS
Power prices have had one heck of a ride this year! We saw low prices in H1, due to healthy gas supply levels (LNG flows were strong and storage high), strong renewable output and a covid related reduction in demand. See our H1 report here for more information. Since H1 we have seen prices rise, with the Summer-21 contract increasing in value a whopping 16% over August alone. This is good news for our PPA customers looking to lock in contracts as it will mean they receive more for the same power. What were the key drivers affecting price action over the quarter?
The European Union looking to tighten carbon policy
Low renewable output
Low nuclear availability
Carbon
Carbon has been at the forefront of many power traders minds over the quarter, with good correlation between the two commodities. Below we chart Winter-20 in power and the December-20 carbon contract. A mild winter and higher than expected nuclear output drove.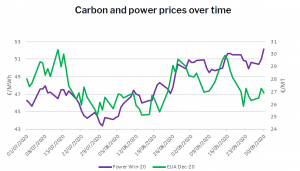 The correlation between the two should perhaps be unsurprising, at least for the UK, given that gas fired generation is the marginal price setter (and these generators must buy European carbon credits to offset their emissions if they are over 20 MWe capacity). So then, what has been driving carbon?
Carbon saw the first few announcements from Europe around a tighter emission reduction target in August. The current target for emissions is a 40% reduction on 1990 levels. The latest proposals are in the range of 55 to 60% reduction of 1990 levels, with a specific figure yet to be written into law (expectation is that before the end of 2020 a new target will be in place). This led to a sharp appreciation in prices.
Renewables output was low over August which led to the coal running in merit order for 5 consecutive days. This is after having a coal free run for the majority of the summer with numerous records being broken in the process.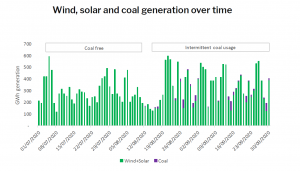 Nuclear Availability

Across the channel, the French nuclear maintenance programme has caused a headache for traders, with Winter-16 still fresh in many minds. In general French nuclear power generates roughly 10-15% of the European Union's total power output and it is crucial for Northwest Europe, with a myriad of interconnections between countries. France's 56 nuclear reactors were built in response to the 1973 oil crisis, and their nuclear generation fleet is between 30 and 45 years old. In April 2020 EDF reduced its expected annual output by >20% and power prices increased considerably. EDFs ageing nuclear fleet means that often scheduled maintenance is extended and we have seen many instances of that impacting prices throughout the quarter. France is to begin decommissioning 12 reactors in the next 15 years, so we may see a structural shift in European markets, with wind and solar lined up as replacements we expect more volatility.
Closer to home, National Grid extended the deal with EDF to turn off one reactor at Sizewell B's Nuclear station, this was in response to a significant reduction in power demand due to the COVID-19 lockdown. This led to a 0.6 GW cut in generation until 24th September. Under normal circumstances, nuclear stations run at their full output (assuming no maintenance or safety concerns). Sizewell B is the only pressurised water reactor in the UK, this is key as the reactor output is more easily varied than the rest of the UK's fleet which are advanced gas cooled reactors.
Sticking with Nuclear power, at the end of August, EDF announced Hunterston B, a 1.2GW power station will close 2 years early owing to safety concerns, with a scheduled decommissioning date of January 2022. Several cracks were found in the reactor core meaning safety concerns lead to the announcement of an early closure. Whilst the 2 reactors have been generating intermittently over the last 5 years, it represents a reduction in Nuclear capacity of 1.2 GW for the UK.
In prompt power markets we have witnessed interesting price action. As normal, prices are trending up into winter, with more fueled assets needing price incentives to run. What is less normal is the several significant spikes that we saw in September. These price spikes allow customers on flexible day ahead PPA contracts to capture more value in a volatile market.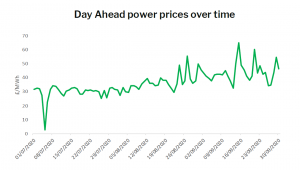 Most notably on 15th of September demand and supply were looking very tightly balanced, resulting in National Grid releasing a Capacity Market Notification. See our separate blog post on this event here.
Calon Energy
At the end of June Calon Energy, CCGT owner/operators entered administration. Calon Energy was created when a Macquarie led consortium purchased 3 CCGTs in 2012. Lately they have been loss making, in part due to the changing nature of CCGTs operation in the UK. They no longer supply baseload power as was common even 10 years ago and now are a marginal power producer and hence required to produce at peak times only.
Media reported that they were looking at finding a buyer as recently as 2018. What does their bankruptcy mean? We expect Baglan Bay (582 MW) to continue operations, with the other sites (Severn Power Station, 850 MW and Sutton Bridge, 850 MW) being scheduled for closure. The closure of Sutton Bridge is unsurprising as it is the oldest in the portfolio at just over 20 years old. Baglan holds a black start (contract to provide start up services to National Grid in the event of widespread power outages) contract which may have been a deciding factor in keeping this plant open. With less flexible capacity in the UK that will mean more volatility in prompt markets and versatile technologies, operated correctly, will capture more value.