Q3 Report: Ancillary Services
ANCILLARY SERVICES
We split the ancillary services by which technology can participate.
Battery related ancillary services
National Grid and energy companies alike have had a busy Q3 with new products released and trials taking part. National Grid are working towards their goal of carbon free operation of the grid by 2025, which requires a re-think of existing products. Limejump are excited to see this ambitious target and will do everything possible to support National Grid in this endeavour.
Key for us were:
• The much awaited release of Dynamic Containment
• Reserve Storage in the BM trial
Dynamic Containment
Dynamic Containment went live on October 1st (but we include in this review) to much fanfare from industry. This is the premium
frequency product National Grid tenders for. It is faster acting than dynamic FFR, with a response required at a subsecond level. See our blog post here on dynamic containment. Below we can see there are 6 companies competing and prices have converged
around the £17/MW/hr level.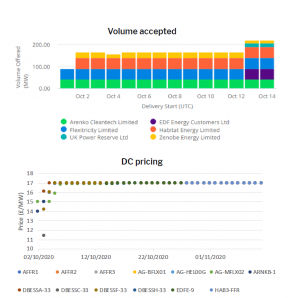 Limejump is working towards our Dynamic Containment product and expects to be able to offer this to customers in the near future.
Reserve Storage in the BM trial
National Grid ran phases 2 and 3 of their reserve from storage in the BM trial in Q3 this year. What was the trial? The trial was enacted by National Grid as part of their emergency measures announced to combat the low levels of demand following Covid-19 lockdown. It aimed to use storage in the BM to meet some of the operational needs of the system by:
• Provision of upward and downward reserve over a sustained period. This included repositioning the battery to ensure sustained provision.
• Delivery of fast-acting bids and offers to arrest changes in frequency i.e. frequency control.
• Ensuring real time, second-by-second balancing of energy resources against demand i.e. energy balancing.
National Grid requires reserve services to match supply and demand on a real time basis. For example, National Grid may use reserve if a plant that was running breaks down, or forecast renewable output was lower than expected. The existing upward/ downward reserve provision is through: services tendered ahead of time (STOR, Fast Reserve, Spin Gen etc), BM start up, Super SEL and through the BM.

Phase 2 was a week-long trial restricted to one asset. Phase 3 saw the trial extended for 3 weeks and opened up to all parties. Crucially though, any parties already holding FFR contracts could not renege on the contracts and opt for the trial. Unfortunately this excluded Limejump from participation. We saw the trial as providing good value for battery owners and are supportive of National Grid creating this into a product.
FFR PRICING
Broadly speaking FFR prices were pushed down over the quarter, carrying on the trend started around April of decreasing prices for the service.

We see monthly dynamic FFR prices have lost over 10% of value since the start of the quarter. This is because National Grid's procurement target has remained relatively unchanged, whilst over 50 MW of new batteries have come online that are now competing.
The weekly auction has markedly different dynamics owing to the lower procurement target and the fact the auction is pay as clear (with the monthly pay as bid). With this auction, we have seen a few parties willing to bid likely below their marginal cost to secure the volume. The problem with this strategy is if all market participants do that, you end up with a very low clearing price that loses money for the asset. We saw this behaviour this quarter, with prices clearing <£1/MWh over a few EFA blocks.
With the introduction of Dynamic Containment, we expect less downward pressure on the FFR prices as competition levels will decrease.
GAS RELATED ANCILLARY SERVICES – STOR/FAST RESERVE
National Grid suspended both the STOR and Fast reserve product at the end of last year as neither complied with the Clean Energy Package (CEP) regulation. This quarter National Grid released updated guidance for STOR and fast reserve.
National Grid will seek to make STOR compliant with the CEP. They will begin procuring 100% of the requirement at the day ahead stage and will be looking for 1.7 GW. This move is expected from April 2021. National Grid believes the move to Day Ahead procurement could allow the participation of wind and solar generators. These previously could not compete as renewables do not necessarily know how much volume of energy they will output at a given point in the future. National Grid are also moving the availability payment to pay as clear and they will be moving more services to this auction type following learnings from the phase 2 FFR trial.
In contrast, National Grid will not seek to make Fast Reserve compliant with the CEP and will halt procuring anymore. National Grid will continue to use existing contracts, however, will be reviewing how the product fits in with the future design of fast acting reserve products.
RENEWABLE ANCILLARY SERVICES – ODFM
Optional Downwards Flexibility Management (ODFM), the National Grid's newly created service for renewable turn down, was called upon once over the quarter. This product is another trick in National Grids tool bag for balancing the system and is used when there is too much power on the system. National Grid used this product on 5 July where high levels of wind, solar and low levels of demand led to National Grid being exceptionally long (generation > demand). This is only the fifth time the product has been used since its inception in May. National Grid instructed just under 3 GW at a cost of £4.9m, with Limejump representing 120MW of that volume. Interestingly, National Grid did not need to call upon the product over the August bank holiday weekend, which was what National Grid were originally planning the product for. Bank Holidays tend to be low points in National Demand, with many factories/businesses closed and typically high levels of solar power (for the summer bank holidays).
What happened this time? The wind out-turned very low over the August bank holiday and hence National Grid was able to balance the system using their usual bag of tricks.