On the Verge of a Tipping Point for the UK Energy Transition – Balancing Mechanism Report – Q1 2019
In Part 2 of this Limejump report, our trading team takes a look at the various markets we participate in and the combined influences that shape these. Our Traders have identified a number of trends throughout the quarter to develop our market view. In this instalment, we focus on the Balancing Mechanism and ancillary markets.
For Part 1 focusing on the wider energy market, please read here.
The decarbonisation of the British electricity market has made some substantial inroads in recent years with 2018 being the greenest year on record:
This continues to be driven by the building of further renewable assets and a more efficient grid that displaces the need for polluting generation sources to be called upon. We are now observing days where, in the case of high wind, 0% or a nominal amount of coal is brought on to balance the network.
Year to date, there have been 648.5 no-coal hours in 2019 which equates to 28% of the year, surpassing the total no-coal hours in 2017 (614.5 hours) and nearly six times as many as recorded this time last year (108.5 hours).
Furthermore, Britain already hosts the world's biggest offshore wind market producing 40 per cent of global capacity, equating to a total installation of 20 gigawatts of wind power capacity. Of this total, UK offshore wind farms account for 8 GW and this is expected to reach 30 GW by 2030 under current government targets. At present, however, gas still provides the lion share of the generation mix:
It is also believed that further interconnector construction will result in a reduced requirement for domestic "dirty" generation. In this quarter, we have observed the completed commission of another interconnector to Britain, the Nemo Interconnector with Belgium. This has a 1 GW capacity, and despite being bi-directional, it is expected to see power continuing to flow towards Britain rather than away.
National Grid is investing a further £2 Billion over the next 5 years on projects such as the North Sea Link which will connect Britain and Norway and IFA 2 which will provide a second link to France. These will add 1,400MW and 1,000MW of capacity respectively. In addition, it was also recently announced that financial approval was authorised for the construction of the 1,400MW Viking Link, which will connect Britain with Denmark.
Progress has also been made in terms of how aggregated Balancing Mechanism Units (BMU's) can operate within the Balancing Mechanism (BM) market. In January, National Grid launched a new 'Distributed Resource Desk' in its control room, enabling the Electricity System Operator (ESO) to allow smaller market players to participate much faster alongside the larger more traditional BMU's. We see this as a major step towards decentralisation in the energy market as this is further acknowledgement that sustainable resources and technology, such as smaller power generators, battery storage operators and Demand Side Response (DSR), can balance the grid and compete with traditional power plants.
However, we are encouraging National Grid to continue making further developments that will eventually see such aggregated BMU's on the exact same desk that holds the conventional BMU's such as the large pump storage facilitates which provide frequency-based balancing and response services 24/7.
END OF THE TRIAD SEASON
As we waved goodbye to what has been a relatively mild and calm winter it was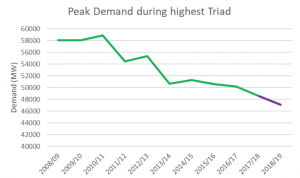 noticeable how the system has evolved even from last year, to manage peak demand
A mostly negative trend has been observed over the last 10 years caused by improved energy efficiency, e.g. more LED lights that are significantly more energy efficient, less intense demand from industry and greater embedded generation, and increased Triad avoidance activity.
The same negative trend appeared between the 17/18 season and the 18/19 season, where yet again peak demand has fallen.
2018- 2019 TRIAD HOURS

This fall will likely have been exacerbated by a relatively milder winter. In addition, we have observed dips on the usual demand peaks where distribution network connected generators, looking to benefit from supplying during these periods ramp up, and those who can flex their consumption have sought to avoid high costs in these identified windows.
SYSTEM PRICES
This quarter, the majority of high System Prices featured towards the end of January/start of February when System Prices reached £195/MWh:
Q1 19'S MOST EXPENSIVE 10 SYSTEM PRICES VS AUCTION PRICE
In this most expensive instance of £195/MWh,
National Grid managed a short system by bringing on a great deal of supply and only sent 1 turn down instruction for the settlement period worth 8MWh. This meant that NIV was + 826MWh and therefore prices came out at the top end of the BOA stack, displayed on the right.
On the other hand, the top 10 least expensive actions were all on the same day- 24/03/19.
Q1 19'S LEAST EXPENSIVE 10 SYSTEM PRICES VS AUCTION PRICE 
This occurred on a Sunday, where National Grid under-forecast the supply that renewables would provide, as GB experienced an unexpected bout of warm and sunny weather. This saw demand collapse and solar generation spike resulting in a high volume of turn down instructions which set the price.
With the volume of renewables now on the system increasing, system balancing is expected to become increasingly frequent. Furthermore, there have been a number of changes to how System Prices will be calculated by Elexon at the end of the quarter.
From 1 April 2019, CADL flagging BM instructions were reduced from 15 minutes to 10 minutes. This means that assets that tend to price-in their flexibility for short bursts, will now be included in the BM stack and not stage 1 flagged. In periods of system stress, these are more likely to be price setters. This could lead to more extreme prices when NIV is highly positive or negative. On normal days, where National Grid calls on conventional generation throughout the settlement period, this is unlikely to cause too much of an impact as NIV will remain away from these price extremes. However, on days where supply and demand are at near perfect equilibrium, these changes may result in more extreme pricing. This is because the only instructions National Grid will have sent would be short burst instructions for frequency reasons, which under these new rules may set the price in the absence of any other instructions.
Furthermore, on 1st April 2019, the rules for De Minimis Acceptance Threshold (DMAT) tagging will also change through a reduction in the volume from 1MWh to 0.1MWh. This means that small actions that are greater than 0.1MWh will remain in the price stack and depending on the NIV, PAR Tagging could result in the price for these actions setting the System Price where they previously would have been discounted.
Therefore, these changes will present an interesting Q2 which Limejump will be keeping a close eye on and identifying strategies with which we can take advantage of.
LIMEJUMP AND THE BALANCING MECHANISM
Limejump's activity in the BM continues to increase. We continue to work with National Grid to improve how we can optimise assets within a range of services and bring the most value to customers:
COMBINING BM AND FFR
The most recent development that we have pioneered is a BMU that can offer volume to the BM during periods of the day when it is not contracted to operate in an FFR window. We secured and operated such contracts in both February and March of this year bringing value from both revenue streams to assets and has also won contracts going into April.
In the BM, we received ~2,500 instructions to both bring on and bring off supply to the system. The lowest price achieved was on 17th March when prices to charge assets were secured at -£25/MWh. The very next day, the highest price in the quarter was achieved at £130/MWh. It is this volatility and price spread we look to trade within on behalf of our customers.
We are constantly looking to improve our intelligence in the BM so to optimise assets and capture the highest level of value possible. This quarter our analytics team have developed a highly accurate demand forecasting tool that allows us to anticipate how National Grid will have to manage frequency. This combines an ensemble of sophisticated models that utilise machine learning capabilities allowed us to make increasingly critical judgement calls when optimising assets in the BM or via the intraday market.
Furthermore, we have added another Trading Analyst to the team who is dedicated to the continuous improvement of both the quality and representation of our data sources as we endeavour to be the leading asset trader in the Balancing Mechanism.
Watch this space.
Disclaimer
This document has been prepared by Limejump and is provided to its recipient on no-reliance basis, free of charge and voluntarily. The data and analysis in this document is owned by Limejump, unless where stated otherwise. The recipient shall not distribute the document to people outside of its organisation. Whilst Limejump has taken reasonable care in preparing this document, no representation or warranty, either expressed or implied, is made as to the accuracy or completeness of the information that it contains. This document does not constitute professional advice, delivery of service or performance of a contractual obligation by Limejump. Parties using information in here should make their own enquiries and obtain independent verification as to its accuracy and suitability for the purpose for which they intend to use it. Neither Limejump nor any other companies in the Limejump group, shall be liable for any error or misstatement or opinion on which the recipient of this document relies and does not accept any responsibility for any costs, damages or losses which may be incurred as a result of the reliance, use or unlawful distribution of this document by its recipient.