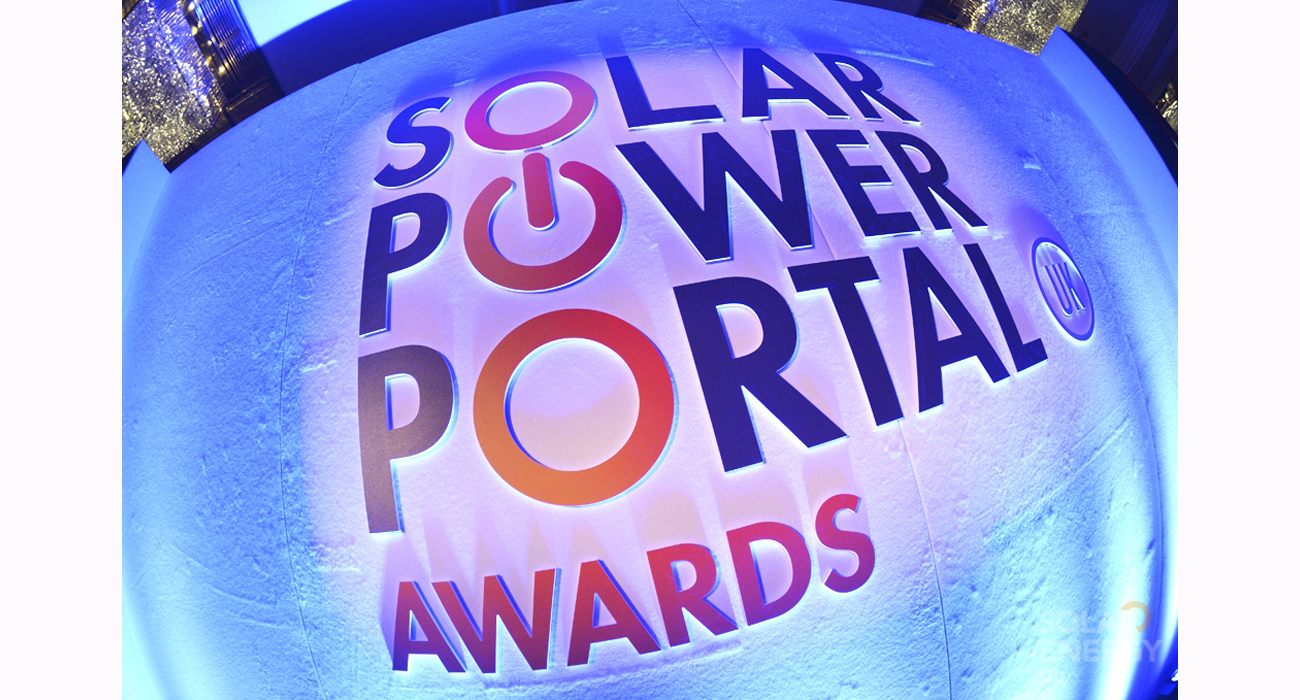 Limejump Nominated for Prestigious Solar Power Portal Award 2018
Solar Power Portal has revealed the shortlists for their Solar Power Portal and Energy-Storage News Awards 2018.
Limejump has been nominated in the prestigious Storage Business Model Innovation of the Year award for our contributions to the Electricity storage industry, amongst other distinguished nominees.
Following a month-long judging process, SPP revealed the 67 entries that make up the shortlists for the 15 categories that make up this year's awards.
Winners will be crowned at the awards gala dinner ceremony, organised this year to take place at the Hilton Metropole NEC on the evening of Wednesday 17 October 2018.
The guest host for the evening is TV personality and design expert George Clarke.
For more on this happening, please check the Solar Power Portal website
The nominees are:
Storage Business Model Innovation of the Year
Limejump Virtual Power Plant – Limejump
The Olde House, Local Energy Marketplace Cornwall – redT, Centrica
Anesco's Storage Revenue Modelling – Anesco
Flexitricity+ – Flexitricity
The 'Best in Show' Solar Design Award
St Michael's Hospice, Hereford – Solarkinetics
Bentley Solar Carport – Flexisolar
Wellington Place – Watt Energy Saver
Hobmoor Terrace, York – The Phoenix Works
Oat Errish Farm – EvoEnergy
Residential Rooftop Solar Installation of the Year
Roborough Eco Town – Photon Energy
Oat Errish Farm – EvoEnergy/GB Sol
The Chasse, Topsham – SunGift Energy
Hobmoor Terrace – The Phoenix Works
Commercial Rooftop Solar Installation of the Year
Port of Immingham – Custom Solar
BBC Wales New Broadcast HQ – Dulas
Guernsey Electricity – The Little Green Energy Company
Great St. Mary's Church, Cambridge – Cambridge Solar
White Rose and Trinity Shopping Centres, Leeds – EvoEnergy
Doncaster Rovers Keepmoat Stadium – Eden Sustainable
University of Sussex Retrofit – SAS Energy
Community Solar Installation of the Year
Cletwr Café, Wales – Cambridge Solar
Tamar Energy Community/Tesco – SunGift Energy
The Sustainable City – City Solar AE
Off-Grid, Community-Owned Distributed Generation Systems in East Sumba – PROINSO
Ground-mount Solar Installation of the Year
Dunore, Northern Ireland – Greencells
Cranfield University Airfield – RenEnergy
Netley South – Ethical Power
Tilesdown House – The Solar Electrician
International PV Installation of the Year
Golmud 100MW using Bifacial Modules – Huanghe Hydropower Development (with Trina Solar, JA Solar, Lerri Solar, Solargiga Energy, XiAn Solar)
SuiXi 40MW Floating Solar Project – Trina Solar
Maharashtra Solar Farm – Lightsource BP
Kambadur Project – Downing LLP
Spier Wine Estate, South Africa – RenEnergy
Technaf Solartech 28MW Project, Bangladesh – PROINSO, Joules Power Limited
O&M Provider of the Year
Residential Storage Project of the Year
Connect & Manage – WPD
Project ERIC – Moixa
National Energy Action/North Devon Homes – SunGift Energy
Grainbank – Solo Energy
C&I Storage Project of the Year
Lyreco – EvoEnergy
IMP's Electricity Cost Neutral Building – IMP
Shell UK Low Carbon Petro Stations – Emtec Energy
Plessey 2MW Behind the Meter Battery – Kiwi Power, Amber Infrastructure
Utility-scale Storage Project of the Year
Glassenbury Battery Park – Low Carbon
Pilsworth Landfill Liquid Air Energy Storage Plant – Highview Power
Pelham Battery Storage – SMA
International Storage Project of the Year
Areza Maidma Hybrid Mini Grid – Solarcentury
Wuxi Singapore Industrial Park Smart Distribution Grid – Narada
St. Eustatius Hybrid System – SMA
Arizona Public Service – Fluence
Emergency Energy Storage Units for Kera Charity, Sri Lanka – Stortera
Transaction of the Year
SunnySide-1 Canadian Solar UK Portfolio Sale – Canadian Solar
Lightsource and BP partnership – Lightsource BP
Octopus 522MW Solar Portfolio Refinancing – Octopus Energy
Product Innovation of the Year
Q.Cells Q.Flat-G5 Module – Hanwha Q Cells
SolarEdge's EV Charging Single Phase Inverter – SolarEdge
Smart Energy Management System and Control Platform – IMP
SunSniffer Digital Twin – SunSniffer
The IQ7 Microinverter – Enphase Energy
Kaco Reactive Power Only Inverter – Kaco New Energy
The eMIG 2.0 Platform – PAD Technology
NeON R Series Module – LG
50kW-120kW Inverters with Synergy Technology – SolarEdge
Contractor of the Year
Solarsense UK
SAS Energy
Joju Solar
SunGift Energy
EvoEnergy
Custom Solar