First ever Capacity Market Notice: Reflections one week on
Exceptional circumstances resulted in Grid issuing their first CM notice since Q4-16 (excluding the false alarm in June-17)!
One week on, we've taken a look back to reflect on this Extraordinary occurrence for the UK energy industry. Read on to find out insights on why this happened from the LJ team.
First things first – what was the notice? Below is the note issued by National Grid on Tuesday afternoon last week.

What is a capacity market notice and why are they issued?
A capacity market notice can be issued for 3 reasons:
The System Operator gives a Demand Reduction Instruction or an Emergency Manual Disconnection Instruction to one or more DNOs
An Inadequate System Margin is forecast (at least 4 hours in the future)
Automatic Low Frequency Demand Disconnection takes place
In this case rule 2 was satisfied and National Grid forecast the margin set out in the capacity market rules would fall below a certain threshold.
In layman's terms, this means National Grid was forecasting very little excess supply relative to demand.
What do generators have to do when a Capacity Market Notice is issued?
After an instruction is issued, generators holding a Capacity Market contract must be ready to generate when National Grid forecast a short fall (assuming they are not performing any other ancillary services).
Generators (and traders) not holding Capacity Market contracts can also react to the market conditions and capitalise on the (likely) high prices and volatility – the Limejump traders continually optimise our assets over such periods of high pricing and volatility and last Tuesday was no exception.
Below is a snapshot of the imbalance price (price for being long/short) and the day ahead price for September 15th.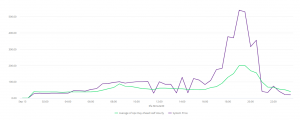 We can see prices spiked exceptionally high and that imbalance prices went higher than day ahead. This is a result of National Grid having to call on generators to provide more volume to the system (at a high price).
Why was it cancelled?
Interesting though, the notice was cancelled and the industry largely 'stood down'.
The Day Ahead auction pricing meant that the UK was scheduled to be a net exporter of power to the continent and therefore lowered the de rated margin over the evening peak period in the UK. Prices in Europe however were also high with low renewables and low nuclear availability.
In the end the dilemma of low excess supply was solved when National Grid managed to purchase volume on the interconnector. National Grid were able to reverse scheduled Interconnector flows from mainly France and additional volume from the Netherlands and Belgium via BSAD bilateral trades. This gave the UK >2GW of power and eased the pressure on the UK system. The BSAD trades were at a price of up to £607.57/MWh and these high prices filtered through into the cashout price.
Spotting irregularity
Limejump are consistently monitoring the market for any developments like this.
The cancellation in this instance notwithstanding, when we spot any irregularity, we can quickly capitalise on them for the benefit of our customers.