Consolidating benefits: Hilldino LLP complete renewals on island wind portfolio PPA with Limejump
About Hilldino
Hilldino LLP's approach to wind investment stands out in the market. Its 'Venture Power' offering is built on the firm, technology grounded, belief that power is better consumed as close to point of generation as possible.
This has led the entrepreneurial firm to build a strong portfolio of investments in domestic-scale local energy generation, local storage and local micro-grids since 2014. Successful serial entrepreneur Duncan Hilleary and Pulitzer Prize winning journalist and investor Albert Scardino have led the outfit to a build a successful business built on strong local generation benefits in the Scottish islands. Duncan and Albert have been supported by a team of experts, with experienced local development manager Henrik Micski at Ecodyn taking a hands-on role with many of the larger installs and subsequent PPA management.
The start of a long-term partnership
In 2018 Hilldino partnered with Limejump to deliver a PPA for nine of its wind turbines. Limejump's offering makes the day-to-day operational management of Hilldino's PPA portfolio – and its associated revenues – straight forward and easy.
This is especially important to the Hilldino team as the turbine portfolio is split across nine distinctly different island locations, with five turbines spread across the Isle of Lewis communities, and further turbines on the Isles of Harris, Skye, Barra and South Uist: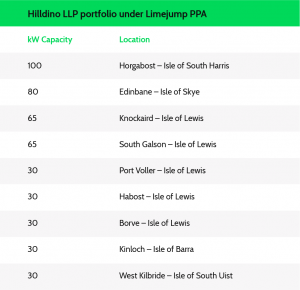 All together the sites output is estimated at a healthy 1500-2000MWh per annum. When the wind is blowing and the sites are generating clean electricity, this is enough to power thousands of homes and properties.
Maximum values and easy management
Since 2018 Limejump's knowledgeable support team have ensured that Hilldino's financial return is maximised through careful planning and clever PPA execution.
The Fixed Power Price PPA from Limejump balances budget certainty for Hilldino, while allowing them to maximise the the value of their £/ MWh return. Limejump's signature technology led-approach coupled with the best of team intelligence gives Hilldino the opportunity to take advantage of power price spikes and growth, locking in additional value when selling its power forward. Fundamentally, the firm is capturing more £/MWh value for its electricity generation.
Moreover, as a generator Hilldino are entitled to a number of financial Embedded Benefits for the service it provides by generating onto the distributed energy system. This comes in the form of GDUoS and BSUoS benefits and unlike some suppliers, Limejump passes on 100% of these values to Hilldino.
Couple this with an award-winning Customer Portal, and the PPA makes for easy management of a "best of both" approach, balancing market activity with simple and transparent billing.
Site generation data and payment invoices are available 24 hours a day together with an office-hours online Portal Chat function for direct and live conversation. This means that Hilldino is engaged and connected with their PPA Supplier whenever it needs to be. The crystal clear approach to financial reporting Hilldino benefits from means there is no decoding of invoices or past power price data to understand performance, and they can be confident they are getting a good deal as it's all easy to decipher in house.
This straightforward reporting improves the generator's asset management decisions as they can easily see trends in prices and where the £/ MWh value is up or down.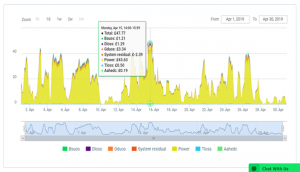 Renewal
Ultimately, contracting its PPA with Limejump gives Hilldino a closer market access with a clear and relatable market view while removing typical administrative burden that comes with PPA management.
Since signing, Limejump's approach, knowledgeable team and practical customer service support has reassured Hilldino that its assets are in safe hands with an industry leading PPA. In August 2020 Hilldino again renewed with Limejump to take them to the back end of 2021.
What Hilldino say
Duncan Hilleary of Hilldino: "Alongside the technical expertise and financial benefits, it's the very modern customer service relationship which makes Limejump stand out against other companies in the industry.
"The sophistication of the PPA portal and in particular the immediacy of the chat function is valuable for us. We don't have to wait the phone to be answered or an email to be picked up – there is someone right there on the chat, and that's how we expect to communicate in the 2020s. "Daisy's ability to speedily answer question on the renewables side, and Martin's detailed support on any invoice queries are invaluable. We're also able to share feedback in the confidence that it will be picked up and acted on."