Another cold week with low winds rounding off the coldest April since 1989
This week's market was very similar to the last. Sustained low winds and low temperatures caused by a high-pressure system has meant that power prices have been higher than usual for this time of the year, as there was less low-cost renewable generation. Recent data has shown that this has been the coldest April in over 30 years. Healthy CCGT availability and lower demand due to longer daylight hours has meant that we have not seen the extreme volatility that we saw in January, but Day Ahead prices have still been pushing £90/MWh consistently during both morning and evening peaks. System Prices have also reached over £100/MWh every day apart from the 26th highlighting the tightness the system has been under this week.

Carbon and gas prices cause energy price spike
We are starting to sound a bit like a broken record, but European Carbon Unit prices have continued to rise this week, reaching €47.83/mt on the 28th April. Recent analysis has suggested that based on fundamentals alone, the price of carbon should be around €38/mt, but macroeconomic performance around the world continues to bring confidence in the increasing price of Carbon. At the beginning of the year it was thought that Carbon may reach €50/mt, but it looks as though this will be occurring only half way through 2021.
Gas prices dropped at the start of the week due to expectations that there would be an increase in the transit capacity of gas into Ukraine and therefore Europe. However, this did not occur which resulted in a jump in prices. Gas demand is set to increase as a result of the continued cold temperatures, with forecasts suggesting this could continue for the coming weeks. Current gas consumption is 3 million cubic meters above seasonal norms, which is having an impact on gas supplies in the UK. Usually at this time of the year, the UK would be refilling gas supplies, but current conditions mean that we are still reducing gas storage levels. This is putting pressure on future gas prices, because there is the risk of heading into winter with lower storage levels.
Gas market tightness combined with increased carbon prices, has led to the UK Baseload Winter-21 power contract experiencing a considerable price spike, increasing by £3.85/MWh over the last week. This is great news for our PPA customers as it means that they are able to lock in their power price at a significantly higher price via our Track & Trade PPA offering. For context, front winter baseload price is now over £20/MWh higher than this time last year. For a 1MW baseload renewable generator this could increase their returns by over £80,000 in the winter season alone.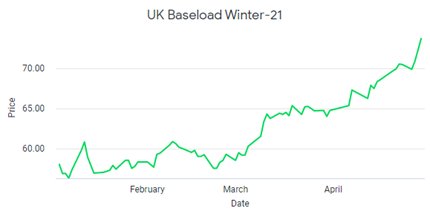 ODFM Launches this weekend
May bank holiday weekend will see the launch of ODFM 2021. Last year Limejump delivered the first solar turn down for National Grid, responding quickly to the opportunity to provide flexibility at short notice – we were one of the earliest to sign-up to and bid in the ODFM. Due to the current weather and renewables forecast for this weekend, we do not expect it to be called upon
Outlook for next week
Unfortunately, the cold weather doesn't look like it is going anywhere over the next week. Forecasts suggest temperatures will increase slightly next week but will continue to be well below seasonal norms. Wind is expected to slowly ramp up at the start of the week and generate above the seasonal expectations of 7.5GW, possibly reaching above 15GW on Friday the 7th May. Despite the higher wind generation, the system is still looking marginally short. That is because there is a reduction in Biomass, CCGT and Nuclear availability. CCGT is expected to drop by 1GW on average but will drop by 4GW by the following weekend. This means that residual load for next week could drop below 5GW, which is where the market starts to get volatile.